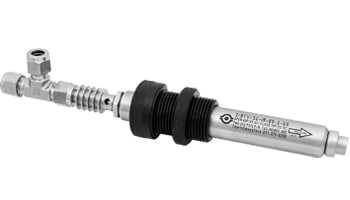 The TV/SC-IR is a flow regulating valve designed to monitor and maintain adequate flow of glycol, water, air, or any other cooling media in an instrument or analyzer enclosure.
The TV/SC-IR can be used to keep an enclosure cool via a vortex cooler to protect expensive analyzers and instrumentation from overheating. For example, a 90°F valve would open at 90°F to allow the compressed air into the vortex cooler valve, which then spins the air at high velocity creating a hot and cold fraction of air. As cold air fills the enclosure, the hot air will be expelled outside, maintaining a desired temperature with the enclosure.
To learn more about our TV/SC-IR valve and to see available sizes and temperatures take a look at our TV/SC-IR Product Sheet.
For TV/SC-IR valve installation, take a look at our TV/SC-IR Installation and Maintenance Instructions.