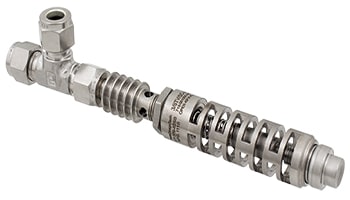 The TV/SC-A is a self-contained, automatic control valve designed to turn on steam, air, gas
or liquids compatible with Teflon® and stainless steel, in response to ambient temperature change to protect facility pipelines and enclosures from freezing. Applications include automation of steam trace lines, operation of pneumatically operated pumps for injection of antifreeze liquids, and instrument enclosure control.
To learn more about our TV/SC-A valve and to see available sizes and temperatures take a look at our TV/SC-A Product Sheet.
For TV/SC-A valve installation, take a look at our TV/SC-A Installation and Maintenance Instructions.
To see how thermostatic steam valves reduce costs and prevent steam losses, check out the Benefits of Thermostatic Steam Control.